The Chili Baptist Church is located at 3182 Chili Ave. The route from the Rochester is to go west on Interstate 490 to exit 5. Then you would go south (left)on route 386 to Chili Ave. While driving south you can see the church to southwest across the Kmart Plaza. You can enlarge the pictures and map by clicking on them

Then go right (West) about 100 ft. The shortest was is to go though the K Mart plaza. The second picture shows the entrance to the church from the Plaza.

The church entrance is shown in the third picture.

From you could also get off the Chili Ave. exit of 390 and go west on Chili Ave. till you get the church. From the North west you could come south from Spencerport on route 259 to King Rd with runs in to Paul Rd to Paul Rd Square, which dead ends at the Church parking lot.
Click on Map to Enlarge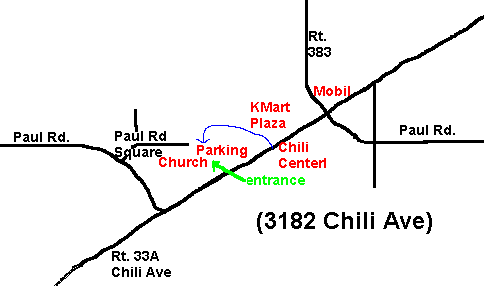 16 Dec04 10.39